Vision
The company continues to deliver projects, on time, in line with the Regional and international requirements and Standards, to our client's satisfaction, eventually to become the most trustworthy and leading Architectural and Engineering Consultants globally.
Mission
We will provide our clients with innovative solutions with an emphasis on quality, integrity, costs, responsiveness, and Sustainability. Our professionals will be in the forefront of new technologies, client-dedicated, and uphold the highest professional standards in the practice of Architecture, Engineering, Sustainability, and Technical Consultancy. We will support our International clients as if we are based locally .It is our intent to become established leaders internationally in the professional services we provide. We will support, guide and mentor both junior and senior professionals ensuring a positive contribution towards their continual professional development, eventually raising the standards within the industry.
All of our long term goals and short term actions will be molded by our set of core values that are shared by each and every Member/Associate of our team.
Values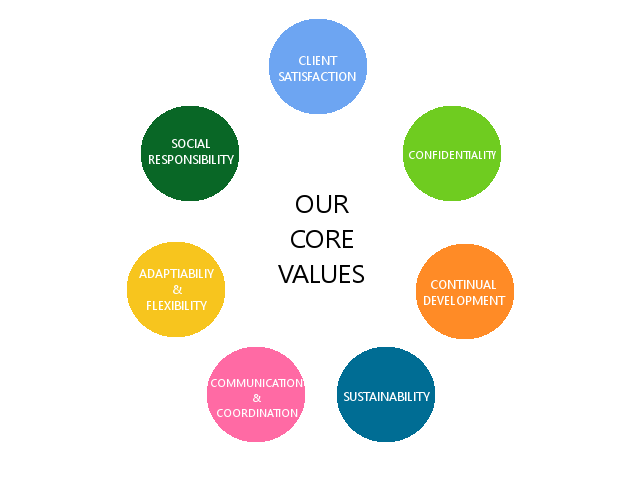 General guiding principles that are to govern all activities.
Sustainability:
We always ensure that all of our design is always Sustainable. It is our Policy to integrate Sustainability and Environmental Management Concepts in all of our designs. This commitment is also reflected in our day to day management where we ensure that we utilize minimum Electricity, reduce the use of paper, reduce the carbon emissions by car pooling of our Staff, etc.
Confidentiality:
As most of our work involves international clients, and are mostly confidential, we have included guaranteed confidentiality for all the projects we carry out. As part of the company's policy, this commitment is also mandatory for all our staff and associates to come into a legal agreement regarding maintaining highest levels of confidentiality.
Client Satisfaction:
We are committed to ensure that all of our designs are up to our clients satisfaction. As such, we offer to update all our designs up to the point when our clients are satisfied, for no additional cost and time implication for the clients. We value all the feedbacks we receive from our clients and ensure that we learn and grow from all our past projects and experiences.
Adaptability and Flexibility:
Focusing on International clients with varying design requirements and standards, we learnt to adapt to various clients requirements, to the point of adjusting the design specifications to match with the requirements, and ensuring that all relevant design codes are still met.
Continual Development:
We believe that learning is continuous. As such, we ensure that we are totally adept with the latest developments in the industry and ensure that we advise our clients on the use of new technologies. Our staff is also committed to regularly attend technical seminars, undergo training and follow the latest developments in the industry. We share all our experiences and skills with both junior and senior professionals, contributing towards the continual professional development of others.
Communication and Coordination:
We establish excellent communication channels right from the start of the project. This is to ensure that the client gets the satisfaction and comfort as if we are based locally in the same region as the client. We allocate dedicated staff at the disposal of our clients all seven days of the week. Our professional team coordinates with other teams involved in the project, including the local authorities to ensure that the final output is as per the project/local authority requirements.
Social Responsibilty:
We strongly believe that every human being is entitled to food, clothing , shelter and education, and it is the responsibility of each one of us to do whatever is possible, As such, We are committed to support the under privileged and people in need by regularly contributing financially a portion of our profit without bias for any religion, caste or race. Spreading knowledge and technical guidance, raising the technical competencies for both junior and senior professionals is also part of our company's prime values.